wiki:prabhu-jishu-chira-mahiyan:prabhu-jishu-chira-mahiyan
Prabhu Jishu Chira Mahiyan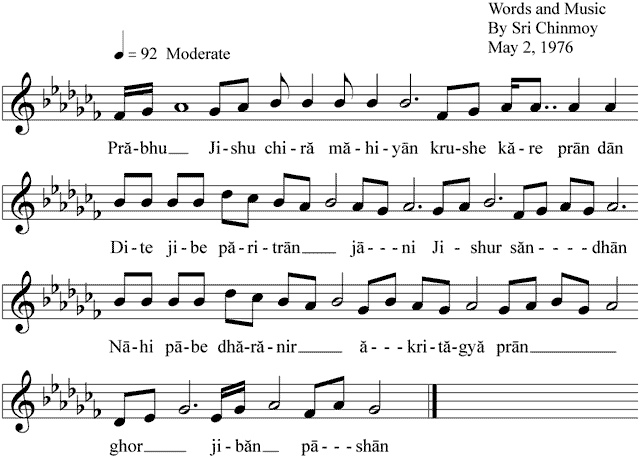 Composed on Apr. 27th, 1976
Lyrics:
Prabhu Jishu chira mahiyan
Krushe kare pran dan
Dite jibe paritran
Jani Jishur sandhan
Nahi pabe dharanir akritagya pran
Ghor jiban pashan
Translation:
Sri Chinmoy's Translation:
Lord Supreme,
Your son Christ has become eternally great
By offering His life to the Cross.
He has become great
By becoming humanity's salvation-light.
I know that ungrateful humanity
Will never be able to realise the real Christ,
For what they have is a dark, stone-hearted life.
Song in:
wiki/prabhu-jishu-chira-mahiyan/prabhu-jishu-chira-mahiyan.txt · Last modified: 2022/07/02 09:40 (external edit)