wiki:tumi-je-hao-se-hao:tumi-je-hao-se-hao
Tumi Je Hao Se Hao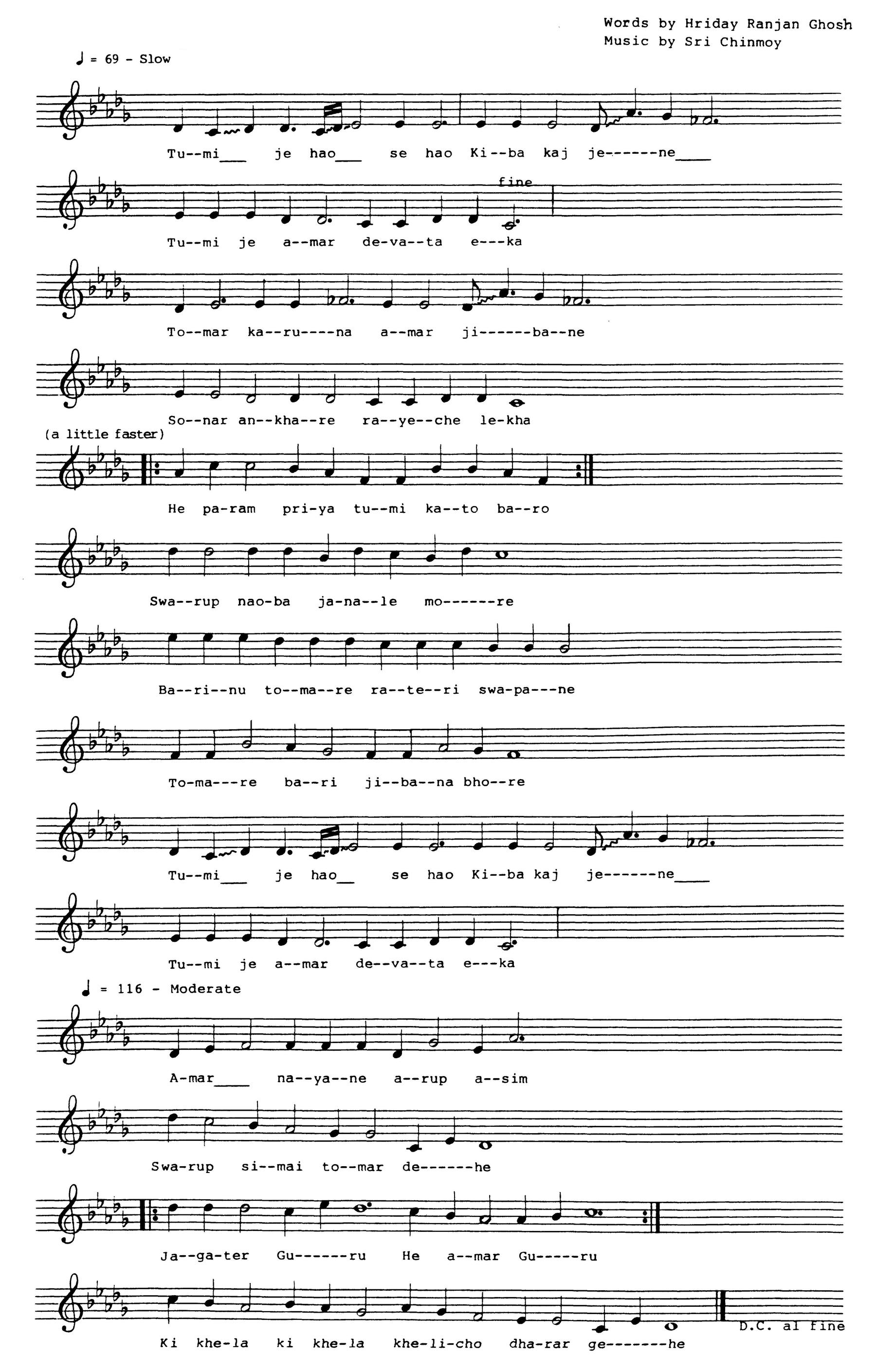 Lyrics:
Tumi je hao se hao kiba kaj jene
Tumi je amar devata eka
Tomar karuna amar jibane
Sonar ankhare rayeche lekha
He param priya tumi kato baro
Swarup naoba janale more
Barinu tomare rateri swapane
Tomare bari jibana bhore
Amar nayane arup asim
Swarup simai tomar dehe
Jagater guru he amar guru
Ki khela khelicho dharar gehe
[Words of Hriday Ranjan Ghosh,
Sri Chinmoy's eldest brother]
Translation:
Sri Chinmoy's Translation:
Who and what Thou art,
What need have I to know:
Thou alone art my God:
Thy Grace in my life
Forever has been written in golden letters.
Supreme Love!
How great Thou art.
The real identity Thou mayst not reveal.
I accepted Thee in dream of night.
Thee alone I greet at the dawn of life.
I see Thee as the Formless One,
As the Infinite in Thy Universal Self-form.
O my Guru, O Guru of the world,
What kind of game art Thou playing
Inside the world-room?
Song in:
Found something wrong? Please tell us! Use the
issue report
form.
wiki/tumi-je-hao-se-hao/tumi-je-hao-se-hao.txt · Last modified: 2020/02/12 09:39 (external edit)