wiki:ushar-uday:ushar-uday
Ushar Uday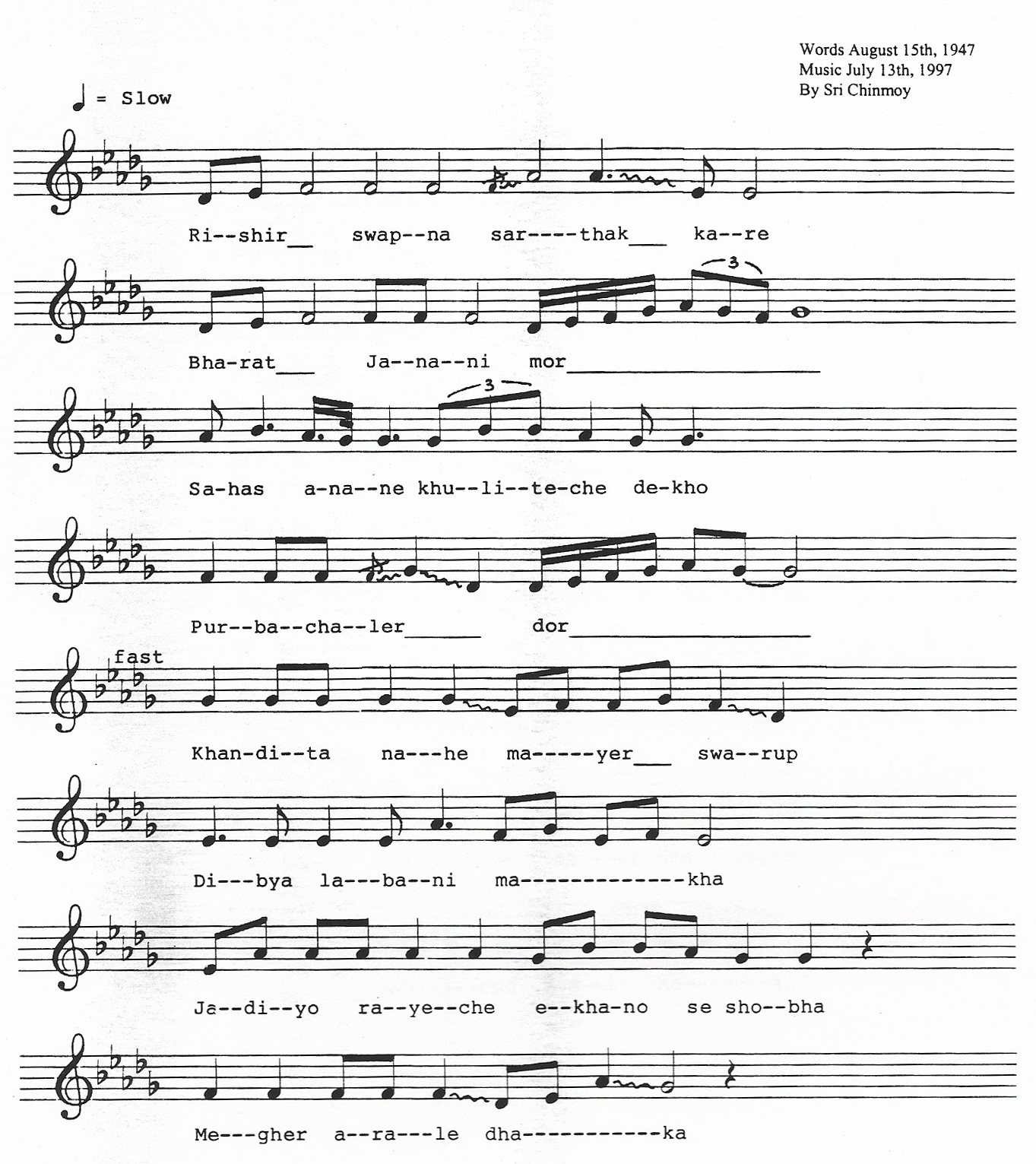 Composed on Jul. 13th, 1997
Lyrics:
Rishir swapna sarthak kare
Bharat janani mor
Sahas anane khuliteche dekho
Purbachaler dor

Khandita nahe mayer swarup
Dibya labani makha
Jadiyo rayeche ekhano se shobha
Megher arale dhaka

Mayer bodhan utpab ei
Nabin juger usha
janani moder aniche bhariya
Amrita manjusha

Bilabo amara bishwa sabhai
Ati manaser sudha
Mayer prasade mithabo amara
Sarba jiber khudha

Jishur swapna swarga rajya
Bastabe rup dite
narayan aj murta halen
Dhulimoy dharanite

Bidhatar joy Bharater joy
Bishwabasir joy
Suchita hateche satya juger
Ajike abhyudoy
Translation:
Sri Chinmoy's Translation:
Fulfilling the vision of the sages,
India, our Mother India,
With smiling face opens today
The door of Her Eastern Light.

Our Mother's body is not amputated.
She shines with divine beauty —
Though even now Her glow and grace
Are veiled by the clouds.

It is the festival of awakening of our Mother;
It is the dawn of a golden new era;
Our Mother is bringing for us Her casket
Filled with Her immortal gifts.

We shall bestow to the comity of nations, to the world at large
The sweet nectar of the Supermind.
We shall satisfy by the favour of our Mother
The hunger of all the souls.

The vision of Jesus Christ — the Kingdom of Heaven —
In order to materialise,
Narayan is revealed today in man
On this earth of dust.

Victory of the Creator, victory of Bharatvarsha,
Victory of the dwellers of the universe
Is indicated today, and of the Golden Age
Today forms the dawn.
Song in:
Found something wrong? Please tell us! Use the
issue report
form.