wiki:swarup-janite-esechhi-e-bhabe:swarup-janite-esechhi-e-bhabe
Swarup Janite Esechhi E Bhabe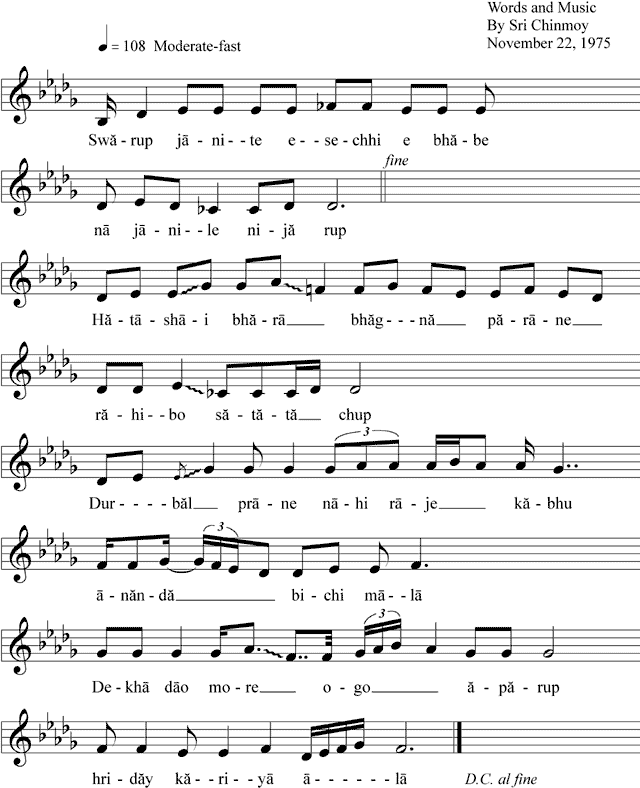 Composed on Nov. 22nd, 1975
Lyrics:
Swarup janite esechhi e bhabe
    Na janile nija rup
Hatashai bhara bhagna parane
    Rahibo satata chup
Durbal prane nahi raje kabhu
    Ananda bichi mala
Dekha dao more ogo aparup
    Hriday kariya ala
Translation:
Sri Chinmoy's Translation:
I have come into the world
To discover my self-form.
If I do not discover my self-form,
I shall remain in silence with frustration-night.
In a weak heart the waves of delight
    Can never abide.
I am, alas, that weak heart.
O Beauty Transcendental, do illumine my heart
   And appear before me.
Song in:
Found something wrong? Please tell us! Use the
issue report
form.
wiki/swarup-janite-esechhi-e-bhabe/swarup-janite-esechhi-e-bhabe.txt · Last modified: 2018/05/19 18:10 (external edit)