wiki:sanjher-tarai-heri-tomai:sanjher-tarai-heri-tomai
Sanjher Tarai Heri Tomai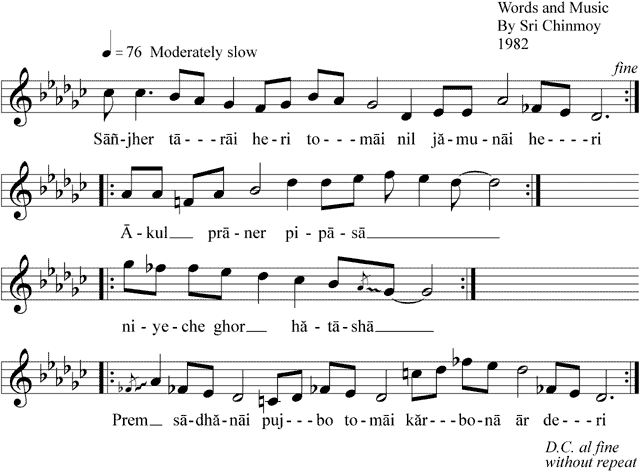 Lyrics:
Sanjher tarai heri tomai
Nil jamunai heri
Akul praner pipasa
Niyeche ghor hatasha
Prem sadhanai pujbo tomai
Karbona ar deri
Translation:
Sri Chinmoy's Translation:
I see You inside the evening stars.
I see You inside the blue river Jamuna.
My heart's ceaseless thirst has now put an end
To my vital of frustration.
My love's self-giving life from now on
Unconditionally will proceed
Towards its destination;
It will no longer delay.
Song in:
wiki/sanjher-tarai-heri-tomai/sanjher-tarai-heri-tomai.txt · Last modified: 2022/07/02 09:40 (external edit)