wiki:rag-kare-ma-ekla-ami:rag-kare-ma-ekla-ami
Rag Kare Ma Ekla Ami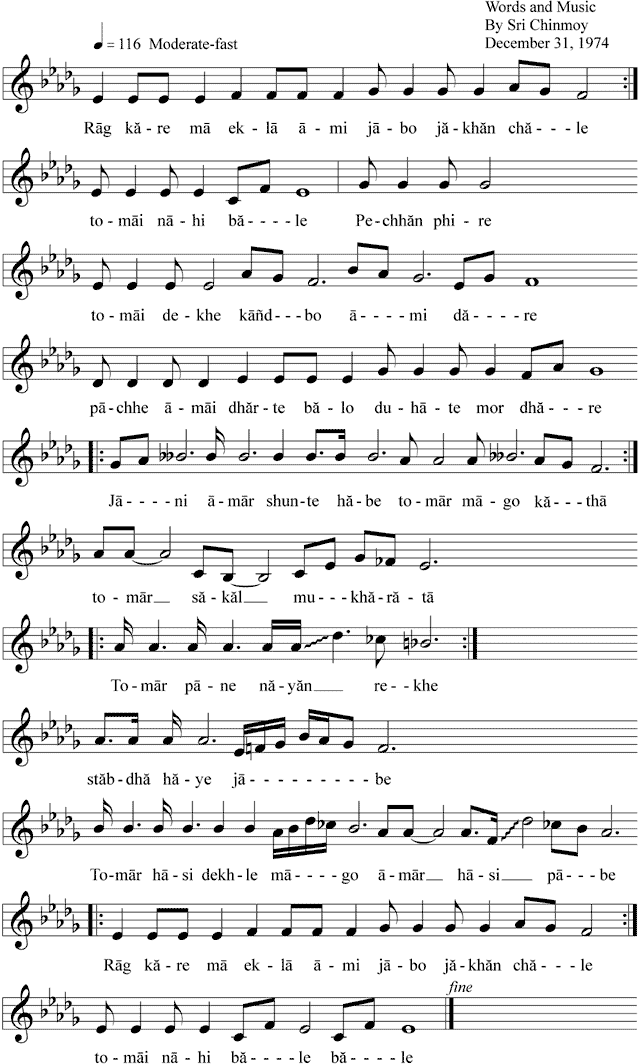 Composed on Dec. 31st, 1974
Lyrics:
Rag kare ma ekla ami
Jabo jakhan chale
Tomai nahi bale
Pechhan phire tomai dekhe
Kandbo ami dare
Pachhe amai dharte balo
Duhate mor dhare
Jani amar shunte habe
Tomar mago katha
Tomar sakal mukharata
Tomar pane nayan rekhe
Stabdha haye jabe
Tomar hasi dekhle mago
Amar hasi pabe
Translation:
Sri Chinmoy's Translation:
Mother, when I go away
Being angry with You,
Without telling You,
Will You look for me?
I know I shall tremble in fear
If I look behind and see
That You are running after me
To catch me with Your Heart'sEndless Affection-Compassion-Love.
If you call me, I know, Mother,
I shall have to surrender to You.
If You smile, Your Smile will compel me
To return to You.
Song in:
Found something wrong? Please tell us! Use the
issue report
form.
wiki/rag-kare-ma-ekla-ami/rag-kare-ma-ekla-ami.txt · Last modified: 2018/05/19 18:10 (external edit)