wiki:ore-batas-ore-amar-pran:ore-batas-ore-amar-pran
Ore Batas Ore Amar Pran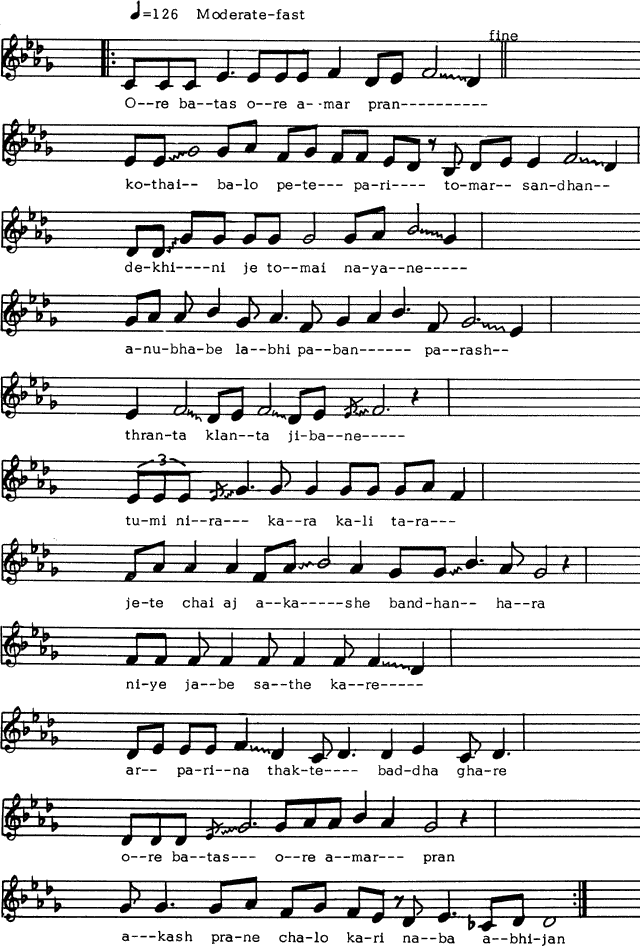 Composed on May. 12th, 1976
Lyrics:
Ore batas ore amar pran
Kothai balo pete pari tomar sandhan
Dekhini je tomai nayane
Anubhabe labhi paban parash
Thranta klanta jibane
Tumi nirakara Kali tara
Jete chai aj akashe bandhan hara
Niye jabe sathe kare
Ar parina thakte baddha ghare
Ore batas ore amar pran
Akash prane chalo kari naba abhijan
Translation:
Sri Chinmoy's Translation:
O wind, you are my life.
Do tell me, where is your source?
I see you not,
But I feel you in my tired life.
You are the formless Mother Kali.
I wish to have you in the boundless sky.
It is impossible for me to be closeted
In a tiny earth-room.
O wind, let you and I start our journey
Towards the highest sky.
Song in:
Found something wrong? Please tell us! Use the
issue report
form.
wiki/ore-batas-ore-amar-pran/ore-batas-ore-amar-pran.txt · Last modified: 2022/07/02 09:40 (external edit)