wiki:hiya-tatini-bahiya-jai:hiya-tatini-bahiya-jai
Hiya Tatini Bahiya Jai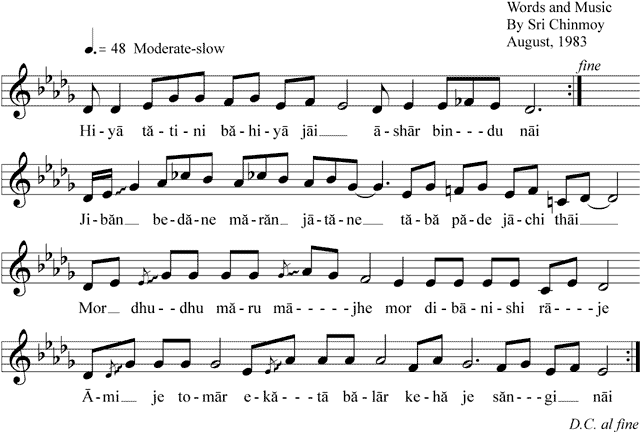 Lyrics:
Hiya tatini bahiya jai
Ashar bindu nai
Jiban bedane maran jatane
Taba pade jachi thai
Mor dhudhu maru majhe
Mor dibanishi raje
Ami je tomar ekata balar
Keha je sangi nai
Translation:
Sri Chinmoy's Translation:
My heart-river flows,
But there is not a drop of hope.
Therefore, O Lord, I seek Your Feet
Throughout the pangs
Of my life and death.
Day and night inside me
Is a barren desert.
I am Yours.
No one else is my companion.
Song in:
wiki/hiya-tatini-bahiya-jai/hiya-tatini-bahiya-jai.txt · Last modified: 2022/07/02 09:40 (external edit)