wiki:eso-eso-eso-mago-khama-ebar-karo-1:eso-eso-eso-mago-khama-ebar-karo-1
Eso Eso Eso Mago Khama Ebar Karo (1)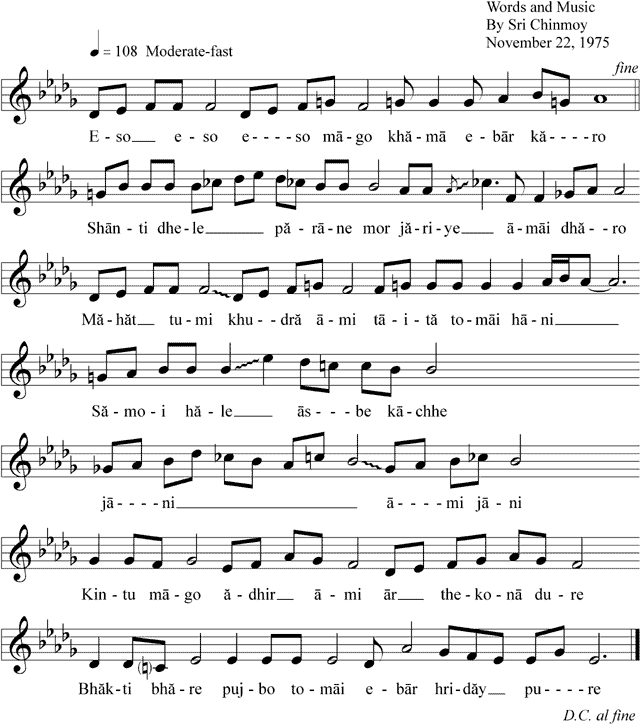 Composed on Nov. 22nd, 1975
Lyrics:
Eso eso eso mago khama ebar karo
Shanti dhele parane mor jariye amai dharo
Mahat tumi khudra ami taita tomai hani
Samoi hale asbe kachhe jani ami jani
Kintu mago adhir ami ar thekona dure
Bhakti bhare pujbo tomai ebar hriday pure
Translation:
Sri Chinmoy's Translation:
Come, Mother, come! Do forgive me.
Do give me peace of mind, do embrace me.
You are great
And I am helpless and hopeless;
Therefore, I strike You.
I know when the divine Hour strikes
You will come to me, but I am restless.
Do come to me, do not remain afar.
I shall adore You, worship You,
Inside the city of my heart.
Do come, Mother!
Song in:
Found something wrong? Please tell us! Use the
issue report
form.
wiki/eso-eso-eso-mago-khama-ebar-karo-1/eso-eso-eso-mago-khama-ebar-karo-1.txt · Last modified: 2019/05/30 00:36 (external edit)