wiki:charan-pheligo-jiban-chhande:charan-pheligo-jiban-chhande
Charan Pheligo Jiban Chhande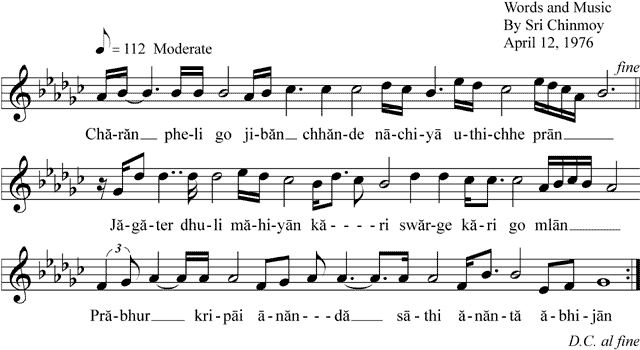 Sri Chinmoy performing:
Sri Chinmoy performing:
Charan Pheligo Jiban Chande
Composed on Apr. 12th, 1976
Lyrics:
Charan pheligo jiban chhande
Nachiya uthichhe pran
Jagater dhuli mahiyan kari
Swarge karigo mlan
Prabhur kripai ananda sathi
Ananta abhijan
Translation:
Sri Chinmoy's Translation:
I am walking along the road of ecstasy.
My life has grown into
The delight of Cosmic Dance.
I have transformed
Even the meaningless dust of earth
Into the heights of God-Glory.
Behold! Heaven's Beauty and Light
Are no match for my achievements
Sweetly here on earth.
My eternity's companion
Is my Lord's Existence-Delight.
Song in:
wiki/charan-pheligo-jiban-chhande/charan-pheligo-jiban-chhande.txt · Last modified: 2022/06/27 09:40 (external edit)